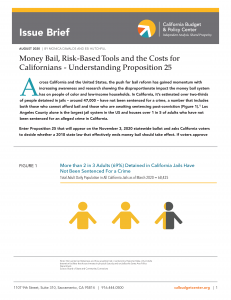 Across California and the United States, the push for bail reform has gained momentum with increasing awareness and research showing the disproportionate impact the money bail system has on people of color and low-income households. In California, it's estimated over two-thirds of people detained in jails – around 47,000 – have not been sentenced for a crime, a number that includes both those who cannot afford bail and those who are awaiting sentencing post-conviction. Los Angeles County alone is the largest jail system in the US and houses over 1 in 5 of adults who have not been sentenced for an alleged crime in California.
Enter Proposition 25 that will appear on the November 3, 2020 statewide ballot and asks California voters to decide whether a 2018 state law that effectively ends money bail should take effect. If voters approve Prop. 25, judges will be able to utilize risk-based assessment tools – examining population links between rearrest or reconviction and individual factors such as age, gender, or criminal record – to determine if individuals detained for certain crimes can be released before a court appearance rather than posting money bail.
Read the full report that discusses racial, economic, and gender disparities embedded in the money bail system and why efforts to reform California's bail system also aim to address the wide racial disparities seen in the criminal justice system.