Older adults are one of the many groups facing significant threats to their well-being from federal policy changes that could be enacted by the new Trump Administration and its allies in Congress. At our annual conference, Policy Insights 2017, on March 2, we will feature a workshop called Aging With Dignity where two experts, Sarah Steenhausen, Senior Policy Advisor with the SCAN Foundation, and Trinh Phan, Senior Staff Attorney with Justice in Aging, will discuss these threats and how California can respond to them. This workshop will also preview findings from the Budget Center's forthcoming report on economic hardship late in life, which underscores the significant risk that potential federal policy changes pose to older adults. One in five Californians age 65 or older already struggle to make ends meet based on the Census Bureau's Supplemental Poverty Measure, and this figure can only be expected to rise if federal policymakers make deep cuts to programs designed to provide economic security as people age.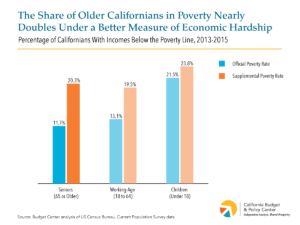 Currently, the most imminent risk to older adults' well-being comes from proposals to reshape our nation's health care system by repealing the Affordable Care Act (ACA) and significantly restructuring Medicaid (Medi-Cal in California). If the ACA is repealed, approximately 1 million Californians approaching the traditional retirement age (ages 55 to 64) could lose access to affordable health coverage. This includes around 600,000 who obtained coverage through the ACA's Medi-Cal expansion and about 400,000 who purchase coverage through Covered California, the vast majority of whom receive subsidies to reduce the cost of that coverage. In addition, repeal of the ACA could undo critical provisions that strengthened Medicare, which provides health and financial security to adults age 65 or older as well as to younger people with disabilities. Repeal of these provisions could raise health care costs for Medicare beneficiaries and worsen the program's financial outlook, making it vulnerable to future cuts. Repealing the ACA also puts in jeopardy incentives for states to provide home- and community-based services to seniors who need assistance with daily tasks, undermining efforts to reduce the need for more costly out-of-home care.
Older adults are also likely to be harmed if federal policymakers convert Medicaid into a block grant, which is simply an effort to shrink federal funding for the program, shifting a greater share of the cost to the states. To compensate for lost federal dollars under a block grant, state policymakers would have to consider restricting eligibility for Medicaid, slashing benefits, and/or reducing payments to health care providers. Such actions would endanger the health and well-being of many people, including older adults. Medicaid is not only an important source of health coverage for older adults with low incomes, including formerly middle-class people who exhausted their life savings paying for health care, but also the primary source of coverage for long-term services and supports (LTSS) for older adults with chronic illness. In fact, most Medicaid spending on behalf of older adults is for LTSS. (Medicare provides only limited coverage for these services.) Reducing federal funding for Medicaid would make it difficult for states to meet the growing need for LTSS as the population ages, and older adults would be an "obvious target for cuts" since their higher health care needs mean they represent a disproportionate share of Medicaid costs.
Older adults could also be harmed by cuts to critical income-support programs like Social Security, which provides the foundation for economic security for millions nationwide. Although President Trump said while campaigning that he would not cut Social Security, his choices for key leadership positions, such as Tom Price (Department of Health and Human Services) and Mick Mulvaney (Office of Management and Budget), call into serious question his commitment to this promise. Both Price and Mulvaney have advocated for major policy changes that would reduce Social Security benefits. Such benefit cuts could inflict serious harm given that two-thirds of beneficiaries age 65 or older count on Social Security for at least half of their income, and one-third rely on it for at least 90 percent of their income.
Supplemental Security Income (SSI), which helps low-income adults age 65 or older and people with disabilities pay for basic living expenses, is also at risk of being cut. President Trump is expected to propose a federal budget that includes "unprecedented cuts" to public supports and services that help people with low or modest incomes make ends meet, and SSI is a likely target given that House Speaker Paul Ryan in recent years has put forward proposals to cut the program. Federal cuts to SSI would be particularly harmful in our state given that Supplemental Security Income/State Supplementary Payment (SSI/SSP) grants — funded with both federal and state dollars — fall far short of providing the income needed to support an adequate standard of living in high-cost California. SSI/SSP grant levels remain inadequate following deep cuts to the state (SSP) portion of these grants, which California made in order to close budget shortfalls that emerged due to the Great Recession.
Join us at Policy Insights 2017 to learn more about these threats and the specific steps state policymakers can take to mitigate the harm they are likely to inflict. For more about the conference watch this short video and then register here.
— Alissa Anderson