Policy Insights is the California Budget & Policy Center's annual conference that brings together over 300 stakeholders working to improve the lives of low- and middle-income Californians. Plenary sessions and workshops explore timely issues and debates regarding tax and budget policy, poverty, health, education, child development, criminal justice, and much more. From interactive trainings, informative discussions, and issue area expertise, Policy Insights would not be as successful without the support of our sponsors. This blog post highlights our 2018 title sponsor, First 5 LA, and our collaboration with them on policies and practices aimed at improving outcomes for families and young children.
---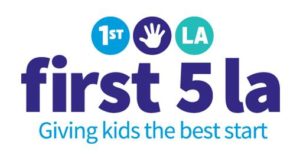 First 5 LA is an independent county agency in Los Angeles that advocates on behalf of parents with young children to help every child, prenatal to age 5, be healthier, safer, and better prepared for kindergarten. Knowing 90% of a child's brain is developed by age 5, First 5 LA partners with parents, community organizations, and other county agencies to help elected officials prioritize funding for early childhood education, health care, and other services that young children and their parents need.
In 2014, their Board of Commissioners unanimously approved the 2015-2020 First 5 LA Strategic Plan, "Focusing on the Future." Through this five-year plan, First 5 LA has taken a more intensive approach by increasing their emphasis on systems change, collaboration, and public policy.
Supporting and educating parents and caregivers, creating meaningful collaborations with like-minded partners, and improving policies and practices in the health care and early care and education systems — this is the direction First 5 LA is taking to positively impact children and families for generations to come.
---
We recently asked the First 5 LA team to respond to a few questions about the organization's focus and key goals.
Q: First 5 LA has created public policy agendas focusing on activities that improve the lives of children and families in the areas of health, education, and child safety. This includes working with organizations to help the public and government officials understand how legislation and other policies affect the lives of the children and families. What does your public policy agenda look like for 2018?
First 5 LA: First 5 LA, like all First 5s throughout California, works with others to ensure children enter kindergarten ready to succeed in school and life. To that end, we focus on changing policies and improving systems so families receive the services and supports they need to help their children thrive. Our agenda focuses on four primary areas: family strengthening, early learning, health system improvement, and community engagement. Ultimately through our advocacy and grantmaking, we hope all children in L.A. County can access critical services proven to change lives and improve outcomes for families and young children: home visiting, quality early care and education, and early health screenings and related interventions.
Q. How will your collaboration with the California Budget & Policy Center help advance your agenda?
First 5 LA: Effective advocacy requires meaningful, accurate data, and the California Budget & Policy Center has a strong reputation for cutting through the noise of complicated budgets and policies and clarifying what the state's funding decisions really mean to California's residents. For example, thanks to the Budget Center's good work, we know that 1.2 million children in California are eligible, but not receiving, subsidized childcare services because elected officials have not sufficiently prioritized their needs. Knowing the implications of California's funding decisions in meaningful ways helps organizations like First 5s better communicate with policymakers and residents.
Q. Governor Brown's proposed 2018-19 state budget would provide funding to fully implement the Local Control Funding Formula (LCFF) two years earlier than originally expected. How do you imagine this will affect investments in early education programs?
First 5 LA: Most local education agencies (LEAs) do not realize that funding from the Local Control Funding Formula can be used to support early learning programs. Though First 5s have partnered with school districts to tap into LCFF funds to pay for these services, we hope this additional funding will help LEAs invest in more quality early learning programs. This would not only immediately help the families and children receiving the services, but perhaps more importantly would help more children enter kindergarten ready to keep learning. The evidence is very clear that the best way to start solving most of the problems schools face regarding attendance, retention, and reading scores can be solved by funding quality early education programs. We're hopeful that more LEAs will see this increased funding as an opportunity to achieve those goals.
Q. What is one thing the state could invest in that would make the biggest difference for children and families?
First 5 LA: No one program or service will solve all of California's problems, but the evidence is very clear that if we keep spending taxpayer dollars on treatment, remediation, and incarceration instead of early intervention and prevention programs we will continue to see escalating cost pressures from prisons, child welfare, and institutional health care. First 5 LA, like all First 5s, believes strongly that we must invest more in proven programs early in life so we can prevent the achievement gap, end the prison pipeline, and break the cycle of intergenerational poverty. Frederick Douglass famously observed, "It is easier to build strong children than to repair broken men." Programs like home visiting, which provides parents with home-based coaching and support, and quality early care and education, which gives children developmentally appropriate learning opportunities while allowing parents to work, help ensure California's children get a strong start to their lives, and help reduce the need for expensive and unnecessary services later in life.
Register for Policy Insights 2018.