Californians should be able to take paid time off to care for themselves or their family without risking their jobs or financial security. The state's paid family leave program was created to help workers balance these career and caregiving commitments, but many California workers are unable to utilize the leave because payment rates are too low. State leaders can ensure workers receive the full benefits of paid family leave by boosting payment rates and ensuring Californians do not have to choose between their job and caring for their family.
Most California workers contribute to paid family leave and are eligible for paid time off – up to eight weeks to attend to a sick family member or bond with a newborn or adopted child.1Workers are eligible for paid family leave if they earn at least $300 during the "base period" (a 12-month period ranging from five to 18 months prior to the claim) while contributing to the state's Disability Insurance Fund. In addition to paid family leave, birthing parents can take an additional four weeks of paid time off before their due date and six weeks after the birth by using state disability insurance. Birthing parents that have had a Cesarean section receive an additional two weeks of disability insurance. After disability insurance ends, birthing parents can then take eight weeks of paid family leave. State disability insurance replaces wages at the same rate as paid family leave. However, California workers with very low wages receive payments that are equal to just 70% of their earnings, and all other workers receive payments that are equal to 60% of earnings.
Many Californians would struggle to pay their bills on a fraction of their earnings, and these low payment rates block access to paid family leave for workers. This is especially the case for workers with low wages who are disproportionately women, Black, and Latinx Californians.2"Low-Wage Work in California Data Explorer," University of California, Berkeley, Labor Center (website), accessed February 7, 2022, https://laborcenter.berkeley.edu/low-wage-work-in-california/. In 2020, more than 18 million workers in California contributed to paid family leave and were eligible to utilize the program. Of those who were eligible, 37% were workers with less than $20,000 in annual wages. Of these same workers, only 14% utilized paid family leave.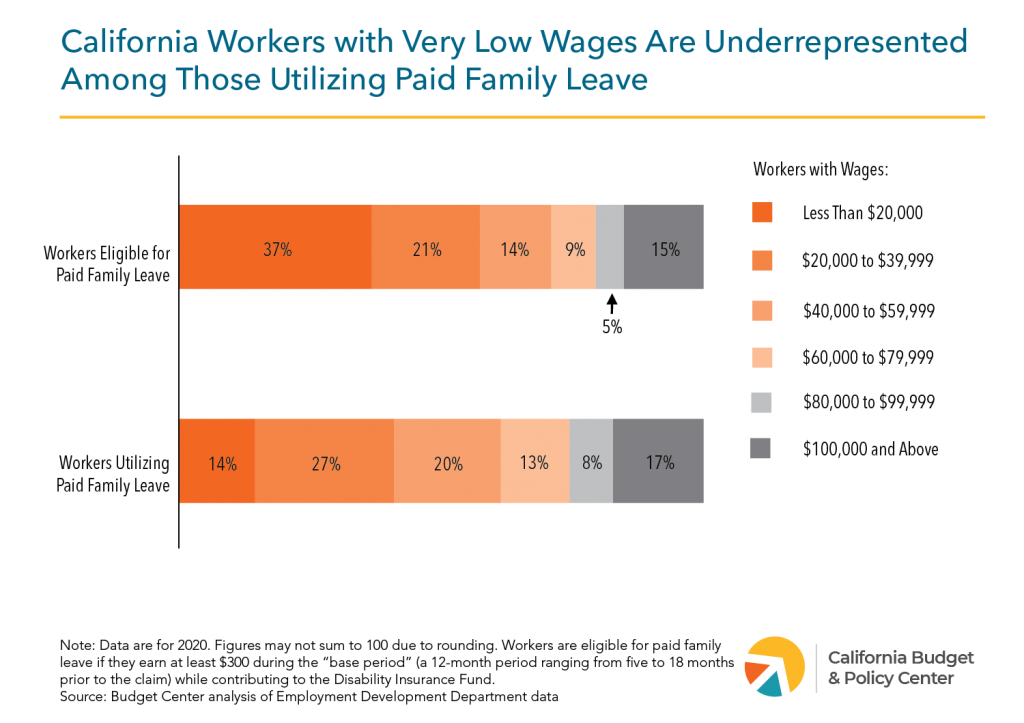 In 2020, just 608 out of every 100,000 eligible workers earning less than $20,000 annually took paid time off work to care for their family. Workers earning between $80,000 and $99,999 annually had a utilization rate that was nearly four times higher than for workers in the lowest wage bracket. Eligible workers in the highest wage bracket — earning more than $100,000 annually — also had a comparatively low utilization rate. Despite this, these high earners still utilized paid family leave at a rate that was nearly three times that of workers earning less than $20,000 annually.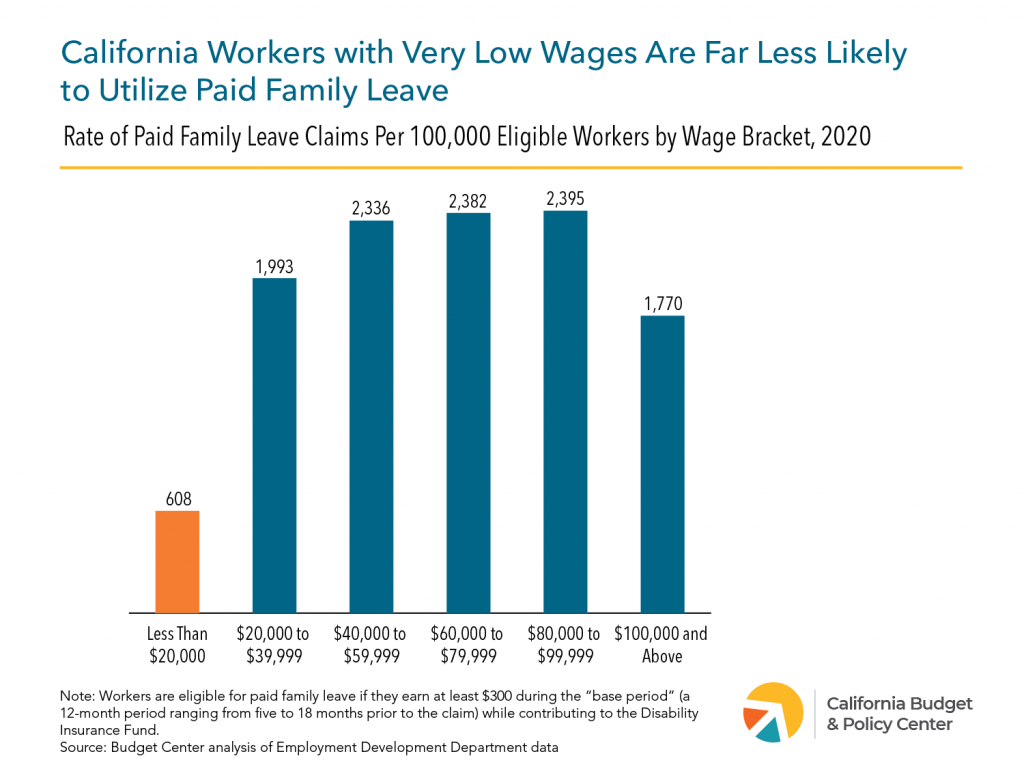 Policymakers temporarily increased payment rates for the paid family leave program in 2018.3Assembly Bill 908 (Gomez, Chapter 5, Statutes of 2016), https://leginfo.legislature.ca.gov/faces/billNavClient.xhtml?bill_id=201520160AB908. This change increased the payment rate from 55% of earnings to 70% for workers with very low pay and 60% of earnings for all other workers. This temporary increase was set to expire at the end of 2021, but state leaders extended the sunset date by one year in the 2021-22 budget agreement. Absent permanent action by state leaders, payment rates will revert to just 55% of earnings at the end of 2022, blocking access for even more workers in California.
"
Policymakers should follow the lead of other states with paid family leave programs and permanently implement a more progressive payment rate structure.
"
State leaders can support workers and families while also dismantling economic, racist, and sexist barriers blocking workers from thriving in their workplaces and homes. California policymakers should follow the lead of other states with paid family leave programs and permanently implement a more progressive payment rate structure. A more progressive payment rate structure would fully replace wages for lower-wage workers up to a higher earnings threshold. Currently, full-time workers paid the $15 minimum wage earn too much to receive the highest payment rate of 70%. Boosting payment rates — particularly for workers earning lower wages — would eliminate a barrier in accessing paid family leave and allow more Californians to utilize this critical program to help their families thrive.
---
Support for this report was provided by the Conrad N. Hilton Foundation.