Endnotes are available in the PDF version of this Fact Sheet.
Parents with low- and moderate-incomes often struggle to stay afloat, balancing the soaring cost of child care against the high price of housing and other expenses. California's subsidized child care and development programs, which are funded by both the state and federal governments, help many families make ends meet and allow them to avoid difficult choices about where to leave their children while at work. Yet, seven years after the end of the Great Recession, these programs as a whole continue to operate at below pre-recession levels, with inflation-adjusted funding well down from 2007-08 levels due to state budget cuts. This means that far fewer families with low and moderate incomes receive subsidized child care today than before the Great Recession began in 2007.
There is tremendous unmet need in California for subsidized child care. In 2015, an estimated 1.5 million children from birth through age 12 were eligible for care, according to a Budget Center analysis of federal survey data. However, only 218,000 children were enrolled in programs that could accommodate families for more than a couple of hours per day and throughout the entire year (see chart). Child care subsidies provide job stability and have been shown to increase parents' earnings. Subsidies also allow families to afford higher-quality child care where their children can learn and grow. Boosting support for families struggling to afford child care is critical, especially given that the cost of child care and nursery school nationally has outpaced overall inflation since the end of the Great Recession. In California, more than two out of three families with children who are living in poverty include someone who is working. Yet, in 2015 the cost of child care for an infant and school-age child in a licensed center was equal to 99 percent of the annual income for a single mother and two children living at the federal poverty line ($19,096).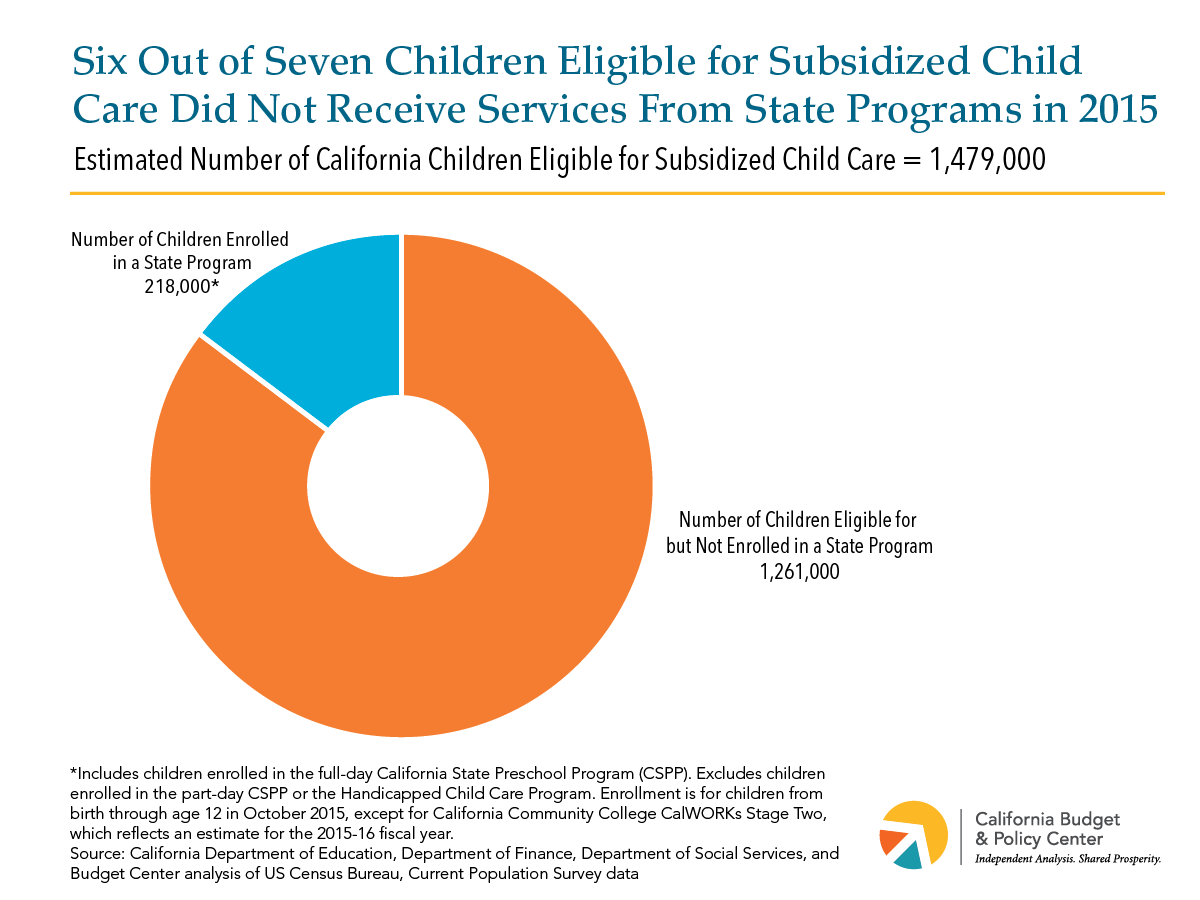 Recent years have seen bipartisan support for subsidized child care at the federal level. In 2014, Republicans and Democrats worked together to reauthorize the Child Care and Development Block Grant (CCDBG) – the primary source of federal funding for subsidized child care. This reauthorization included reforms to ensure the health and safety of children, enhance the quality of programs, and simplify families' access to and retention of services. However, this reauthorization did not provide sufficient federal funding to fully implement these new provisions. In addition, President-elect Trump's child care proposal falls short in helping low- and moderate-income families afford the high cost of care and, furthermore, would primarily benefit higher-income families. The President-elect's plan does nothing to address the vast unmet need for subsidized child care.
State and federal policymakers must increase public investment in subsidized child care and development programs. Affordable child care is critical to supporting low- and moderate-income families while parents are at work and is vital to helping families achieve economic security.
This analysis is the first part of a multiphase effort to analyze subsidized child care and development programs in California. Future phases of this work will examine the unmet need for subsidized child care across different age groups and by race and ethnicity, and will also include an analysis of the number of children and families that would be eligible if the income eligibility limit were updated to reflect the most recent data.
For more information about the methodology used to calculate the estimates provided in this Fact Sheet, see the Technical Appendix.