Access to health care coverage continued to expand in California in 2015 largely because of our state's decision to fully implement federal health care reform, including strengthening Medi-Cal so that it reaches more residents who otherwise couldn't afford private health insurance.
The share of Californians without health insurance fell to 8.6 percent in 2015, down from 12.4 percent in 2014, according to data released yesterday by the US Census Bureau.* This significant drop followed a nearly 5 percentage-point decline from 2013 to 2014, when state policymakers put into effect key provisions of the federal Patient Protection and Affordable Care Act (ACA).
Overall, California's uninsured rate has fallen by half since 2013 — the largest decline in the nation. Moreover, since the ACA was signed into law in 2010, the number of Californians without health coverage has decreased by more than half (51.4 percent), dropping from 6.8 million in 2010 to 3.3 million in 2015.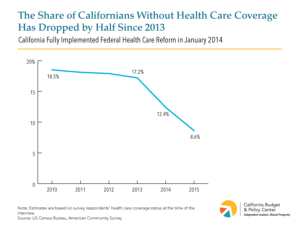 Continued Health Care Coverage Gains in 2015 Reflect California's Implementation of Federal Health Care Reform
The health care coverage gains shown in the new Census data reflect California's efforts to fully implement the reforms and coverage expansions included in the ACA. As a result of these changes:
Enrollment in Medi-Cal, our state's Medicaid program, is up substantially. The number of people receiving health care through Medi-Cal has increased from 7.9 million in 2012-13 — just before California fully implemented health care reform — to a projected 14.1 million in 2016-17, the current fiscal year. This nearly 80 percent jump in enrollment primarily stems from two sets of policy changes that have helped more Californians get the care they need to go to work, take care of their kids, and be healthy, productive members of their communities:

California expanded eligibility for Medi-Cal to low-income parents and childless adults who previously were excluded from the program. The federal government currently pays the full cost of this expansion. Starting in 2017, California will pay 5 percent of these costs, and the state's share will gradually increase to just 10 percent in 2020 and beyond. California is one of 31 states, plus the District of Columbia, that have opted to expand eligibility for Medicaid as allowed by the ACA.
California simplified Medi-Cal's eligibility and enrollment rules, which made it easier for all eligible Californians to sign up for the program and stay enrolled. Simpler rules, along with the ACA's requirement that people have health care coverage or pay a penalty, have encouraged more Californians who were eligible for Medi-Cal prior to health care reform to sign up.

People who earn too much to qualify for Medi-Cal but lack access to affordable job-based coverage can shop for a health plan through Covered California. This online health insurance marketplace allows people to compare the prices and benefits of different health plans. In addition, people who purchase a plan through Covered California may qualify for federal subsidies that reduce the cost of their premiums and related expenses, such as co-pays for doctor visits and prescription drugs. Nearly 1.4 million Californians were enrolled in health plans offered through Covered California as of March 2016, with nearly 9 in 10 receiving federal subsidies.
California Can Take Steps to Further Reduce the Number of Residents Without Health Care Coverage
Despite its success in implementing health care reform to date, California can do more to reduce the number of Californians who face the health and financial consequences of not having health care coverage. Even with the full implementation of health care reform, nearly 1 in 12 Californians — 3.3 million — lacked health care coverage in 2015, according to the new Census data cited above.
One avenue for further expanding coverage is to focus policy solutions on undocumented immigrants. These individuals make up a large share of the uninsured population because of restrictive federal rules. For example, states can't use federal funds to enroll undocumented immigrants in comprehensive — or "full-scope" — Medicaid coverage (although state dollars can be used for this purpose). Moreover, federal law prohibits undocumented immigrants from purchasing coverage through a health insurance marketplace set up under the ACA, such as Covered California. While some of California's more than 2 million undocumented residents get coverage through an employer, most do not. Those who remain uninsured — including because they're unable to sign up for Medi-Cal or purchase private coverage through Covered California — may have no regular source of health care and could face huge out-of-pocket costs for any care they do receive.
Absent any changes in federal law, California policymakers have taken the lead in boosting coverage options for undocumented immigrants — people who work, pay taxes, and contribute to the state's economic prosperity. For example:
A longstanding state policy allows undocumented immigrants who qualify for "deferred action" under federal immigration rules to sign up for full-scope Medi-Cal, so long as they meet the program's income eligibility rules, as we explained in an earlier post.
This past May, California implemented a policy allowing undocumented immigrant children and youth (age 18 and under) in families with low incomes to sign up for comprehensive Medi-Cal coverage. A quarter-million young people are estimated to qualify for this new coverage.
Under a new state law, California will seek a federal waiver to let undocumented immigrants purchase health plans through Covered California without subsidies.
Boosting coverage options for undocumented immigrants is key to further reducing the share of Californians without health insurance. Up to half of Californians who remain uninsured by 2019 are expected to be "undocumented immigrants who are not eligible under the ACA," according to UC Berkeley Labor Center projections. Expanding coverage to all undocumented immigrants — a cost-effective investment in public health — would reduce the state's uninsured rate and move California further down the road to a health care system that works for all residents.
— Scott Graves
*The Census data reported in this blog post reflect 1-year estimates from the American Community Survey. Estimates are based on respondents' coverage status at the time of the interview and "reflect an annual average of current health insurance coverage status," according to the US Census Bureau.