Tomorrow the Senate Appropriations Committee will vote on bills in the suspense file, among which is Assembly Bill 273. AB 273 is particularly important for families who are currently engaged with — or seeking to access — the state's child care and development system, which allows parents with low and moderate incomes to find and maintain employment while providing care and education for their children. Generally speaking, income-eligible parents must be working and/or engaged in a vocational program to access subsidized care.
In a key advance, AB 273 would clarify that two specific activities meet the eligibility criteria: English as a second language (ESL) programs and general educational development (GED) programs. Including these activities in the eligibility criteria is a commonsense change that could help many parents overcome barriers to employment and self-sufficiency.
Compared to other states, California has the highest share of adults with limited English proficiency and the lowest share of adults with a high school diploma.* This is concerning because parents' English-language proficiency and educational achievement are critical pathways to family economic security and improving children's well-being. In California, 1.6 million low-income children have parents who have limited English proficiency and/or do not have a high school diploma. That's more than one-half of all low-income children in the state. In addition, over one-quarter of low-income children have parents who are not proficient in English and who also do not have a high school diploma.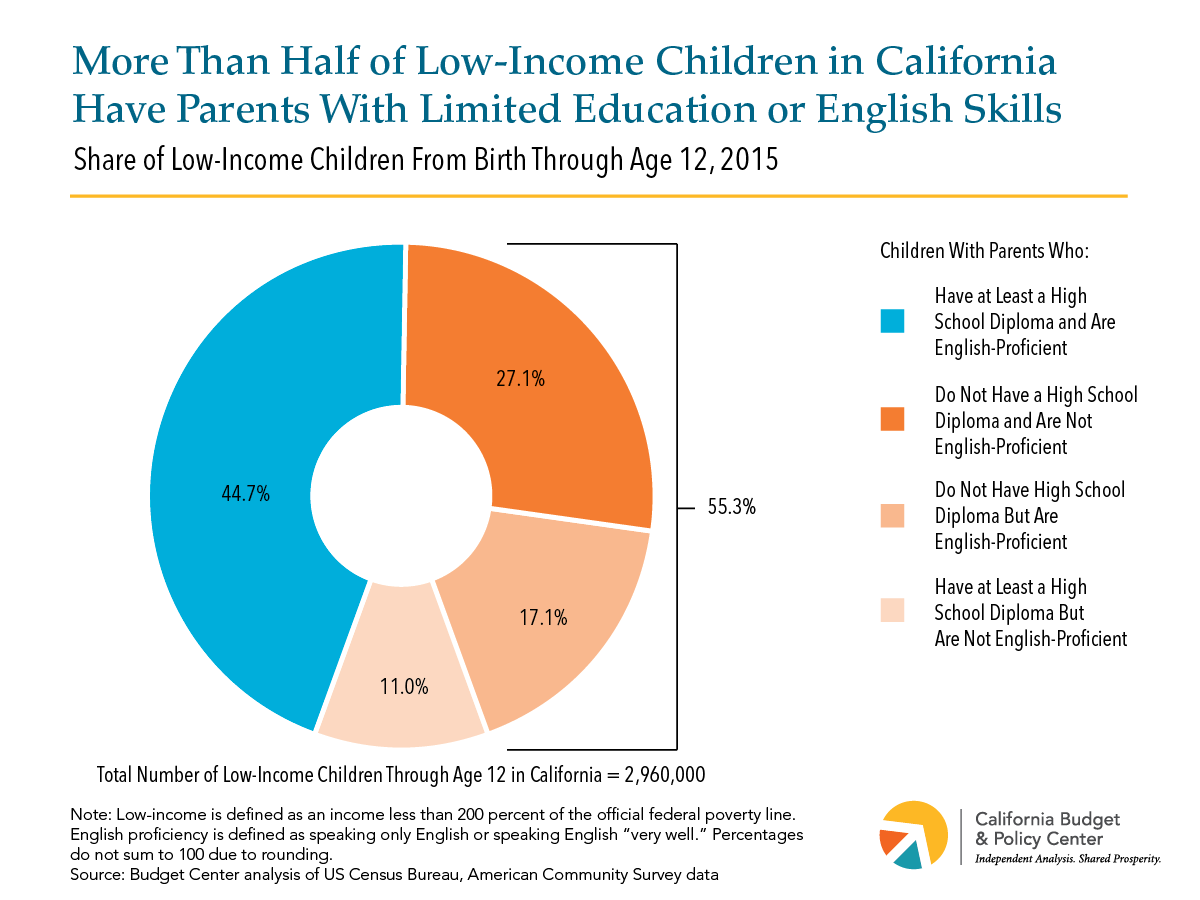 Education and English proficiency are both vitally important for parents who are trying work their way up the economic ladder. Providing access to affordable child care will further enable parents to improve their economic prospects by ensuring that they are not confronting a choice between caring for their children and pursuing economic opportunities. State policymakers should give parents tools to succeed by clarifying that both ESL and GED programs meet the criteria for eligibility for the state's subsidized child care and development system. This sensible and cost-effective choice would positively affect many families struggling to afford the basics throughout the state.
— Kristin Schumacher
*English proficiency is defined as speaking English only or "very well." The share of adults with a high school diploma includes those with a high school equivalency degree. Adult is defined as age 25 or older.