As early as next week, Republican leaders in the House of Representatives could seek a floor vote on a bill to roll back federal health care reform and use the savings to pay for $600 billion in tax cuts primarily for the wealthiest Americans. (Media reports indicate that the current version of the bill, unveiled last week, is likely to be revised to placate conservative Republicans in the House who feel that it doesn't go far enough in rolling back Obamacare.) As currently drafted, the House plan would cause 24 million people to lose health coverage by 2026, according to estimates from the nonpartisan Congressional Budget Office (CBO). This means that all of the health care coverage gains that our country has achieved under the Affordable Care Act (ACA) would be wiped out within a decade if this plan is enacted into law.
The current Republican proposal focuses most of its firepower on Medicaid, which provides coverage for tens of millions of Americans who struggle to make ends meet on low incomes, including roughly 14 million Californians enrolled in Medi-Cal. Republicans propose to both 1) radically restructure federal financing for Medicaid and 2) end an option that 31 states, including California, have used to expand Medicaid to millions of nonelderly adults who previously were ineligible. (See our summary of these proposals.) Relative to current law, these changes would slash total federal spending for Medicaid by $880 billion over the next 10 years and would cause 14 million people to lose Medicaid coverage, according to the CBO. In 2026 alone, federal Medicaid spending would be $155 billion (nearly 25 percent) lower than what the CBO projects under current law.
The CBO's analysis does not estimate the state-level impacts of ending Medicaid as we know it. However, California surely would lose at least tens of billions of dollars in federal support for Medi-Cal over the next decade if Trumpcare becomes the law of the land. Facing a funding loss of this magnitude, state policymakers would be forced to reconsider California's approach to covering low-income residents, raising the prospect of devastating cuts to Medi-Cal eligibility, services, and provider payments. The impact of such cuts would be felt in local communities throughout the state, as illustrated in the map below. For example, more than 2 in 5 residents rely on Medi-Cal in 20 counties, including Los Angeles and San Bernardino counties and most counties in the Central Valley.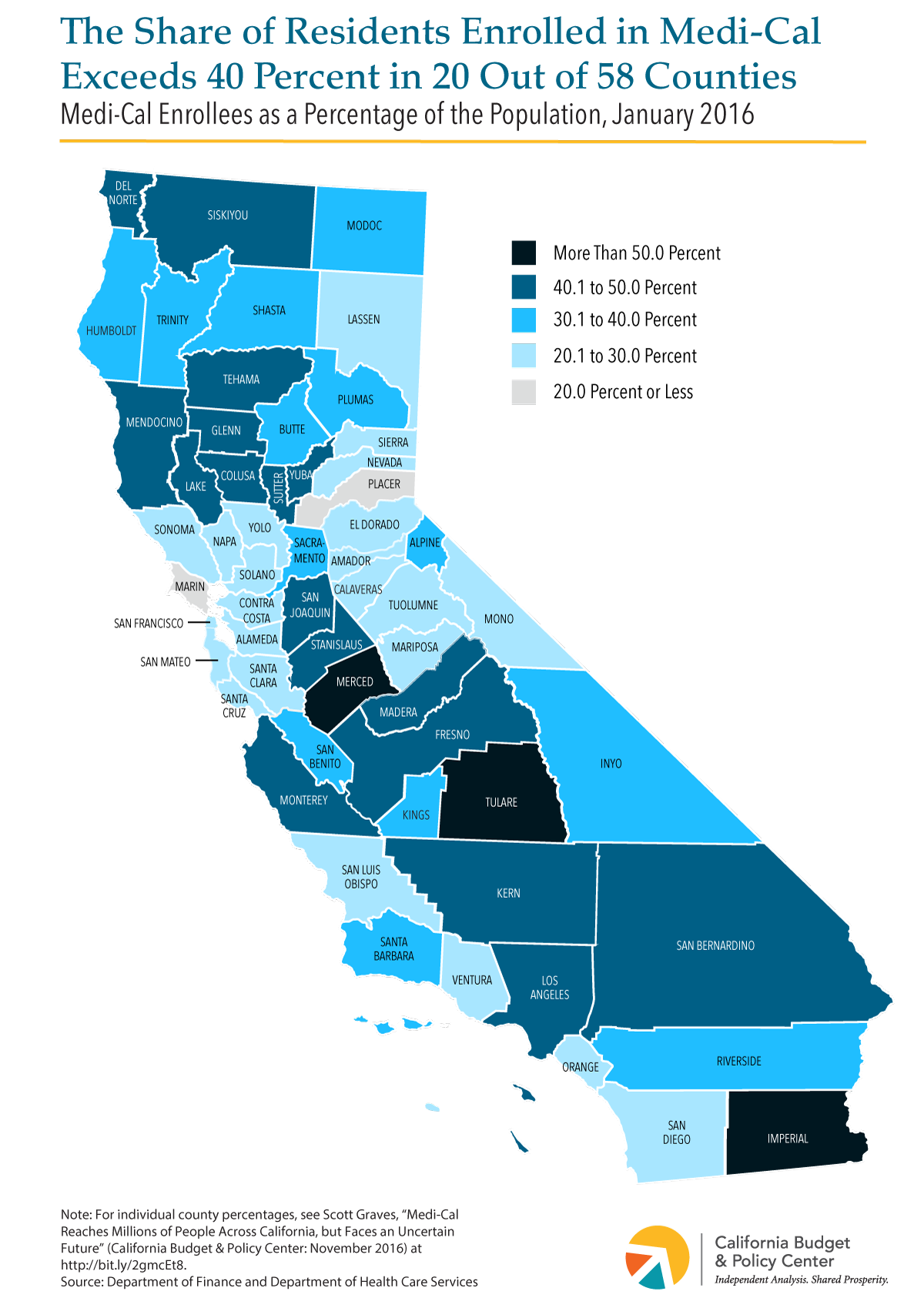 Rather than undermining Medicaid — the cornerstone of our nation's health care system — the Trump Administration and leaders in Congress should be seeking ways to fulfill the President's promises to preserve Medicaid and provide "insurance for everybody."
— Scott Graves