This summer Jerry Brown signed his final budget as Governor of California. The 2018-19 state budget includes notable investments in several key areas, including $46 million for the California College Promise — the first-ever allocation for a program designed to provide community college districts with funding to improve college readiness, increase completion rates, and close achievement gaps. Across the US, Promise programs and the #FreeCollege movement have been gaining momentum in the past several years, more recently fueled by Senator Bernie Sanders' 2016 presidential campaign as well as by broader concerns that rising college tuition could make it harder to have the highly educated workforce that the 21st century economy demands. California's College Promise has widely been reported as offering free tuition, but the details of the program tell a different story — and here's why that's a good thing.
The California College Promise, established last year by Assembly Bill 19 (Santiago), calls for providing community colleges with funds to advance a series of goals and strategies aimed at improving student outcomes. While it's true that colleges have the option to waive the tuition (referred to as "enrollment fees") of first-time, full-time students, this is actually just one of many ways colleges may achieve the goals of the California College Promise. Under AB 19, colleges have discretion in how they use the funds and may instead elect to provide child care resources or help financially disadvantaged students cover their non-tuition costs of college, such as textbooks and transportation. Portraying the California College Promise as "free college/tuition for all" misses the fact that California's program takes a more holistic and responsible approach to helping students succeed.
California's community colleges (CCCs) prepare over 2 million students to transfer to four-year institutions as well as obtain employment training and skills. Over one-third (42%) of students in the CCCs already receive free tuition through the California College Promise Grant. (This was formerly known as the Board of Governors Fee Waiver and, despite the similar-sounding name, is distinct from the California College Promise Program). The grant was created in 1984 to ensure low-income students had access to the community colleges after the Legislature mandated tuition (technically called an "enrollment fee") for CCC students. Grant recipients are students with family incomes at or below 150% of the federal poverty guidelines.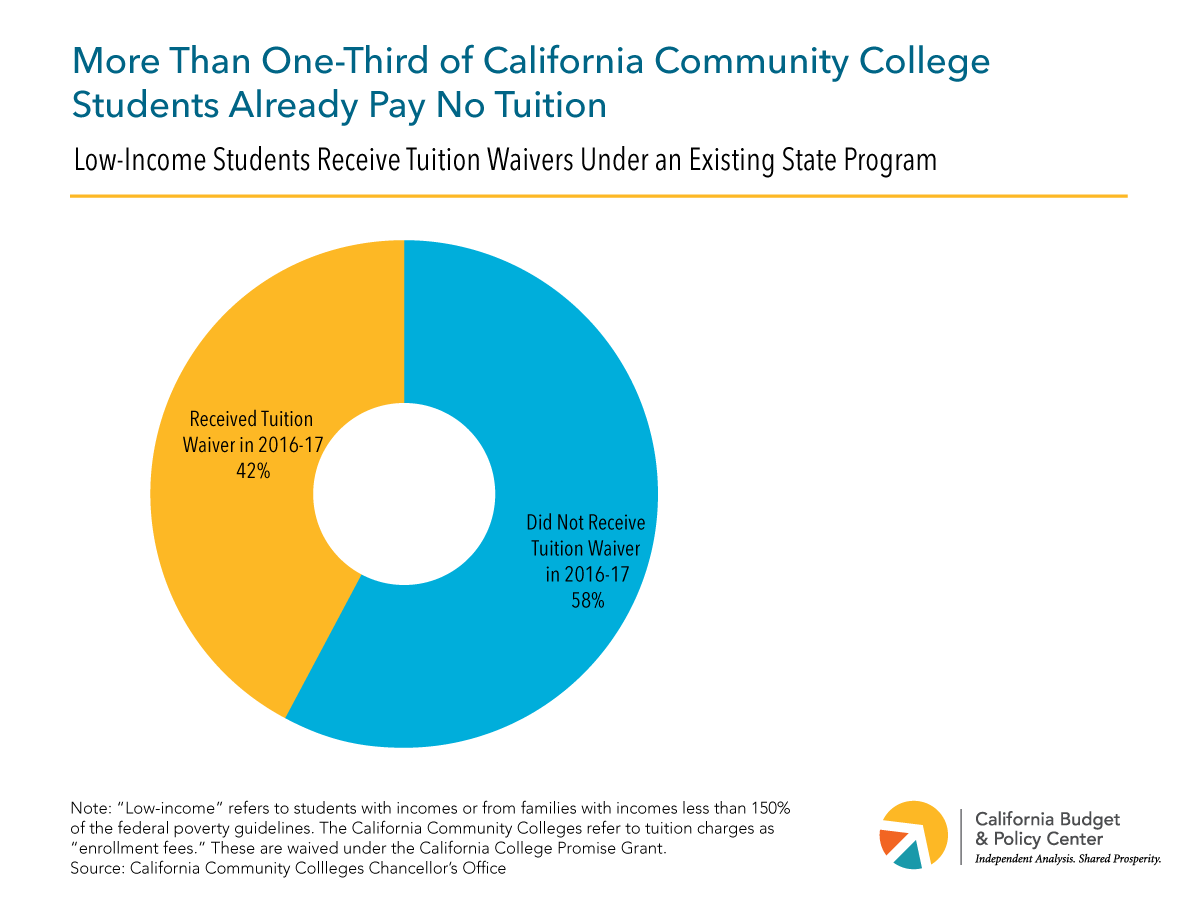 The notion of "free community college," in a California context, could mean that the state would waive the $46-per-unit tuition for all students, including those who have incomes above 150% of the federal poverty guidelines and, therefore, are not covered by the Promise Grant— in other words, for students with lower levels of need.
But, while "free college" has an enticing ring to it, we should ask whether that is sensible and appropriately targeted public policy.
A basic principle of sound economic and fiscal policy is that society's resources are limited and should, therefore, be properly targeted. This understanding is at the core of need-based financial aid programs, like the Promise Grant, that reward students with financial need rather than those with higher incomes and/or high academic achievement. A large body of research has demonstrated that low-income students face the greatest barriers to college enrollment and graduation. This has encouraged the proliferation of need-based Promise programs because they support the most economically disadvantaged students and could offer a larger return on investment.
In other words, a more nuanced understanding of "free college for all" would go beyond covering tuition for everyone regardless of need and would instead focus scarce resources on helping disadvantaged students be better prepared for college, cover non-tuition expenses, and map out a viable path towards graduation.
Lessons from other states can be instructive for how California approaches its own Promise program.
One of the most established need-based Promise programs is the Illinois Promise, created in 2005. The Illinois Promise provides four-year scholarships to the University of Illinois for all eligible low-income high school students. In addition to fulfilling any unmet financial need, the Illinois Promise provides participants with other resources and services to ensure their success in college, such as mentorship, financial literacy workshops, career workshops, and business etiquette dinners. The success of the Illinois Promise is evident in the graduation rates of its students. Compared to the national average, Illinois Promise scholars' graduation rates (79%) are 20% higher than the national six-year average.
Another well-known Promise program is the Tennessee Promise. Established in 2014, the Tennessee Promise couples free community college for all with a mentorship program to help students in navigating the admission and matriculation process. In addition, program participants must perform 8 hours of community service or job shadowing before they can receive their financial aid each term. While enrollment rates at Tennessee community colleges have increased, the enrollment demographics "mimic the overall racial and ethnic composition of students enrolled in higher education across the state." Because the program does not limit participation to financially needy students, it may be missing an opportunity to help those with the most need and, instead, spending resources on students who may have attended college and done well, regardless of the additional aid.
While the notion of free college for all students, regardless of financial need, may sound like a socially egalitarian ideal, it may not be the best option for increasing college access and attainment. This is particularly so where the key barriers to access and attainment are associated with lower-income students' challenges in meeting basic needs — which are often perpetuated by complexities of social disadvantages in health, housing, and employment. To its credit, California's Promise program smartly gives colleges the flexibility to draw on the success and lessons from programs in other states by targeting aid to students most in need and coupling financial and academic support.
The California College Promise does not mandate free tuition, because increasing the number of students who are prepared for and complete college will require more than free tuition. Instead of waiving tuition for all, a better investment would be to increase financial support for non-tuition expenses — such as housing and food — which are the least supported by aid and which many low-income students struggle to afford.
— Amy Rose