State Policymakers Must Do More to Ensure the State's Economy Works for Everyone
New Census figures released today show that millions of people in California continue to struggle to get by on extremely low incomes in spite of our state's recent economic gains. Nearly 6 million Californians, including almost 2 million children, lived in poverty in 2015 based on the official poverty measure. In addition, poverty remained more widespread last year than it was in 2007 when the national recession began. Specifically, 15.3 percent of Californians had incomes below the official poverty line in 2015, down from a recent high of 17.0 percent in 2012, but still well above the state poverty rate in 2007 (12.4 percent). Also, more than 1 in 5 California children lived in poverty last year (21.2 percent), down from a recent high of 23.8 percent in 2012, but still well above the child poverty rate in 2007 (17.3 percent).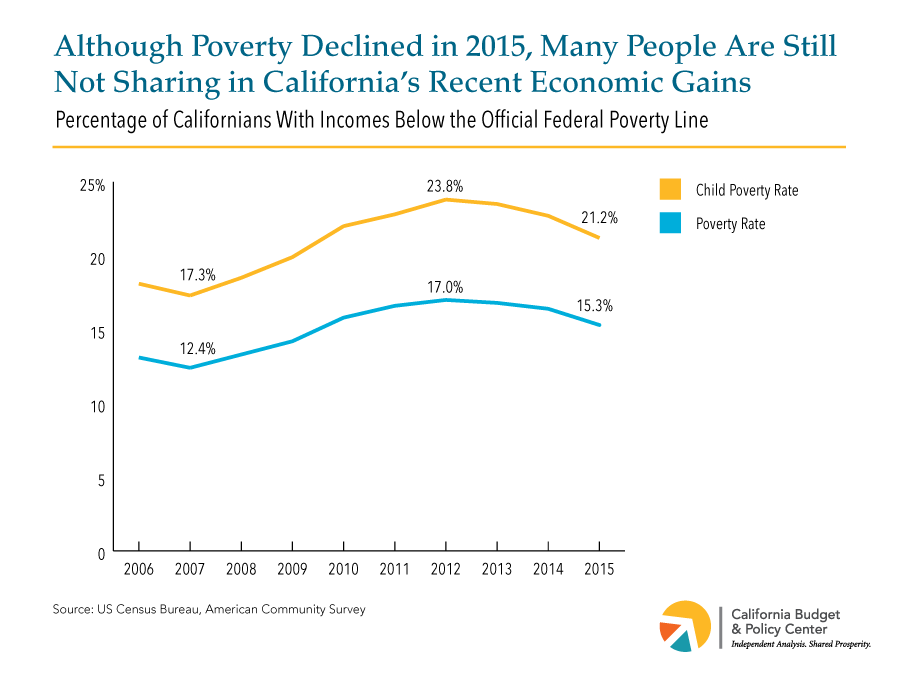 The fact that millions of people lived in families that could not adequately support themselves in 2015 — six years after the end of the national recession — underscores the need for California to do more to ensure that all people can share in our state's economic progress. This report highlights key findings from the data released today and outlines specific steps policymakers can take to increase economic security and opportunity in California.
Figures Based on Official Poverty Measure Understate Hardship in California
Although the newest Census figures show that poverty remains unacceptably high, they understate the number of Californians struggling to get by because they reflect an outdated measure of poverty. Figures released earlier this week based on an improved measure – the Supplemental Poverty Measure (SPM) – show that nearly 8 million Californians, 1 in 5 state residents (20.6 percent), could not adequately support themselves and their families, on average, between 2013 and 2015. California also stands out as having the highest poverty rate in the nation based on the SPM.
This report, however, focuses on the official poverty measure because this measure provides a comprehensive look at state poverty trends and poverty rates for specific groups.
Children — Particularly Children of Color — Are Especially Hard Hit by Poverty
The data released today show that although children make up less than one-quarter of California's population (23.4 percent), they account for nearly one-third of those living below the official poverty line (32.3 percent). Furthermore, black and Latino children are about three times as likely as white children to live in poverty. Nearly one-third of black children (31.0 percent) lived in poverty in 2015, as did more than 1 in 4 Latino children (28.5 percent), compared to just 1 in 10 non-Latino white children (10.3 percent). If the official poverty rate for black and Latino children were equal to that of white children, nearly 950,000 fewer California children would live in poverty, and the state's child poverty rate would be cut in half.
Research Strongly Supports Boosting Families' Incomes to Improve Children's Life Chances
All parents want a strong future for their children, but parents who struggle with inadequate incomes often face challenges in creating a better life for their kids. Research strongly supports making greater public investments to boost families' well-being so that all children — including those whose families have historically faced the greatest barriers to opportunity — can have a stronger future. Compelling evidence from national studies shows that supplementing low-income families' incomes can increase children's life chances. Even modest increases in the incomes of low-earning families have been linked to improved health, greater academic achievement, and higher future earnings for those families' children. The research also suggests that increases in income matter most during children's first few years of life when their brains are developing rapidly, making them particularly vulnerable to the damaging effects of poverty.
State Leaders Can Strengthen California's Future by Improving Children's Opportunities
California's future largely depends on children whose entire lives will be shaped by the extent to which our state invests in their education, health, and well-being. That's why California's leaders, together with parents and teachers, share in the responsibility for ensuring that our state's children have the opportunity to reach their full potential. State policymakers can improve children's life chances by:
All Californians have a stake in policies that give children the chance to succeed, but children cannot thrive unless their families thrive. By investing in policies that increase families' well-being, policymakers can create a stronger future for California's children — and for all of us.